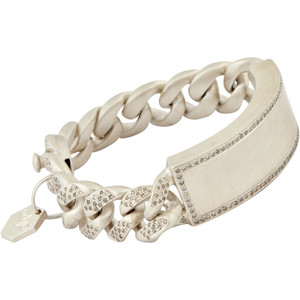 We've been eyeing Ann Dexter-Jones' brushed sterling silver curb-link ID bracelet featuring tiny round-cut sparkling white diamonds for a while. My daughter introduced me to ADJ's collection a few years back and we've been collecting and blogging about them ever since! As I said to my hubby…it's Valentine's Day and this IS the perfect bracelet to grab for my already outstanding collection! (grab…as in special pricing right now on this bracelet so get quickly)
Over the past few years
I've managed to score some fabulous ADJ pieces.
The more bracelets you pair (on your arm) the better the look. They're very different, very edgy rock 'n' roll and totally a fashion favorite among celebs and "me". The only problem…takes a little longer getting ready for bed having to unhook the grouping.
This ID bracelet is different from the others as it features a stunning diamond design. It's dressy but versatile enough to wear casually with leather leggings and a cashmere sweater. Ann's signature ID bracelets are easy to wear and complete any look. The perfect "statement" accessory to compliment your wrist on any occasion. You can wear one, two or three or….MORE.
Nothing says Happy Valentine's Day better than an ADJ bracelet with some real dazzle. The bracelet features an ADJ signature logo tab, an ID plate trimmed with tiny diamonds and an additional safety latch. No need hyperventilating and running to our favorite chi-chi department store
just click right here to indulge.
Her bracelets are pretty amazing and it's never too late to start collecting. Buy one ADJ piece and begin pairing with your own silver bracelets
via:http://www.afewgoodygumdrops.com/2014/02/whatever-your-style-theres-an-ann-dexter-jones-id-bracelet-waiting-for-you.html#comment-24081