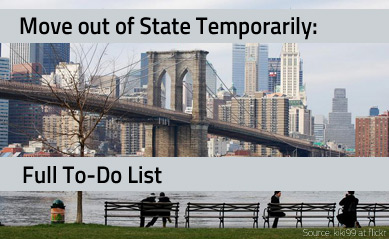 For one reason or another it has happened – you're moving out of state temporarily. Now here comes the question – how do you plan to handle your personal belongings in the meantime? We have prepared for you a list that will help you do the job more easily. In order to organize your move to a different state, we suggest that you take a look now at the info we provide here in this article. There is no reason to be concerned or worried what you're going to do. Once you get advantage of the help here in our article, you will surely do much better and you will have a better control over the situation.
Moving to another state temporarily
There are so many things you need to plan and having in mind that you are leaving state and then coming back, that means more to organize than a regular relocation from one place to another, that does not onvolve moving back. There are a few major decisions that you need to take. Here is our advice on your temporary move to another state.
What are you going to do with your home? If you are renting, what does your contract say about vacating the property? Actually, to a large extend, it just comes down to how long you will be gone. If it is one year, then there is no point to pay two rents at two different places, right? Whether yes or no, you have to make your calculations and plan which option is better for you. If you choose to leave the rental unit, get your security deposit back and search for a new place to rent in the different state where you will be moving to in the meantime. If you will be gone for a couple of months only, perhaps it would be better to end your contract and then sign a new one once you're back. If you own a home, is it worth selling it and buying one back again when you return to state? Unless you are relocating to another state for a few years, then it perhaps doesn't make much sense to do that. You can rent your home and make some money out of it while you are away.

Driving license and car registration. Check the regulations at your state about it and at the state where you will be moving to – unless you won't be driving, of course. Have in mind that there are different requirements in the different states regarding how long you have your license and how long you are staying at the state of your destination. Also, check the regulations that utility companies apply when you want to transfer or disconnect utility services.
Records. Collecting records is necessary, especially if you will be moving to a different state for a longer period of time, like a year or two. If you have a vet and if you are taking kids with you, that also means taking vet and school records with you.
Get your move organized. As soon as you know you're moving temporarily out of state, get the organization started. Call a few movers from our database and ask for free quotes. Of course, it would be even better if you could get home visits for a visual estimate. A cross state mover might offer you this service free of charge but not necessarily.
Best would be to have it all planned as soon as you can and if possible – all at ones. Do you know when you are returning? If you have a set date for your return to your home back to state then you can arrange that date with the moving company as well.
Adapting to the new place. Remember that every move is related to a change in life and its circumstances – if you are going to a place with a different climate, different way of life, you may have a tough time adapting to the new place. Frequent changes of the environment cause stress which is also something that you need to handle. We have a great guide on how to handle stress when moving on this link.
When moving out of state temporarily work your way through the different tasks by following our list. Also, we have plenty of guides, lists with tips and advice, checklists that will help you move – ALL FREE in our Resources section so get advantage!

via:
http://www.mymovingreviews.com/move/move-out-of-state-temporarily